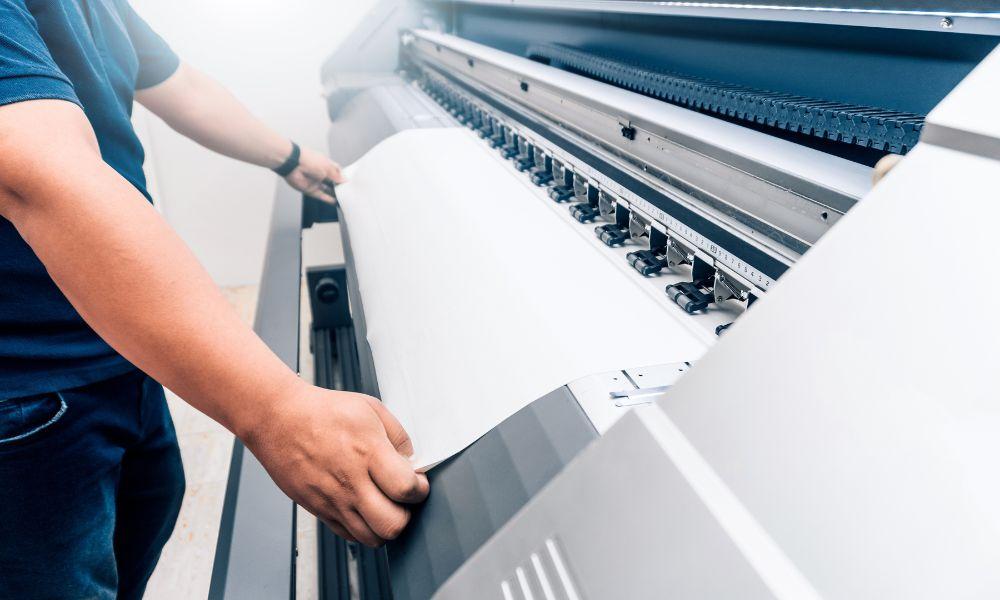 Plotter paper comes in many sizes, and you need the ideal one for your printer. After all, many individuals working in architecture and engineering use plotter printers. Buying a paper roll that's too big for your printer wastes time and money. Expand your understanding of plotter printer paper sizes to prevent a mishap.
Defining Plotter Paper
Plotter paper is a type of paper designed and used for plotter printers and comes in sheets and rolls. You can buy this type of paper for pen plotters or inkjet plotter printers. Plotter paper also comes in bonded and unbonded options; glossy paper is best for an aesthetic finished product.
What's a Plotter Printer?
A plotter printer is a specific type of printer typically used by engineers, architects, and graphic designers. Unlike a typical printer, plotter printers can draw continuous lines, which is why they're so beneficial to design work.
Explaining Plotter Paper Sizes
Unlike most standard printers, a plotter printer can print sheets in various sizes. While you can print standard US letter sizes, you can also use a plotter printer for larger projects. For example, some architects and engineers print designs as big as 36 x 48 inches.
Printing the right size means having the appropriate sheets or paper rolls. When you buy a plotter printer, read through the manual to know the minimum and maximum paper sizes required.
Understanding Roll Width and Length
Manufacturers show the size of plotter paper rolls by displaying the width and length. The width of the printed sheet of paper is how wide the paper will be while the length is how long the entire roll is. Typically, plotter paper rolls have the following widths:
11 inches
17 inches
18 inches
22 inches
24 inches
30 inches
34 inches
36 inches
42 inches
The width can go beyond 42 inches, as some papers are as wide as 54 inches. Noting the width of a roll ensures you buy one wide enough for the drawings or posters you need to create. Finding the appropriate length is a bit easier since the rolls usually only come in three options: 150, 300, and 500 feet. Occasionally, you can find rolls only 100 feet long or some as large as 650 feet.
As you shop for your paper, you'll find sizes such as 18 inches x 300 feet, meaning the paper is 18 inches wide and 300 feet long. This would be ideal if you consistently print documents that are 18 inches wide since 300 feet of paper will last you for a while.
Buying the Best Option
Evaluate the measurements of what you need to print. If you're an architect and need to print blueprints that are 42 inches wide and 56 inches long, then you'll need the wider roll. Likewise, if you consistently need to print documents from your plotter printer, the longer paper roll prevents consistent reloads.
Understanding Roll Diameter
Another key understanding of plotter printer paper sizes is reviewing the diameter of the roll. Most paper rolls have a diameter of 2 or 3 inches, and the ideal size depends on your printer type. Most inkjet plotter printers require a 2-inch core. However, many xerographic machines—and some inkjets—require the 3-inch diameter core.
What's the difference between the options? The paper has less curl as the diameter size increases because it isn't as taut around the core.
Bonus Buying Tip: Coated vs. Uncoated Paper
Depending on your project, you may need coated or uncoated paper. The main difference between the two is that coated has an extra layer, which also slightly alters the appearance. Below, we've further explained both options so you know which one you need:
Coated Paper
Coated paper comes in a few options: cast-coated, glossy, semi-glossy, and matte. This is the paper many of us use for photos or posters of graphic art. Often, coated paper has better resistance to water and other forms of moisture than uncoated. Additionally, many professionals prefer using coated paper for colorful designs because it appears more vibrant.
Uncoated Paper
Uncoated paper is closer to the type many of us use daily and is often used to print design blueprints or written documents. Uncoated paper is typically more cost-effective, so it may be your best option to print early design plans. Plus, uncoated bond paper is easier to write on, so you can make necessary notes on your blueprints.
Using Both Options
Consider printing your early design plans on uncoated paper so you can inspect the design and then note areas to change. Once you have a final product, print it on coated paper so it looks great when you present it to clients. Bonded paper is also beneficial if you need to bring the printout to another location since the coating provides an extra layer of protection against natural elements like water or dirt.
Read Through Your Printer Manual
Take time to read through the owner's manual as you would with any machine. Your plotter printer will have specific size requirements listed there. By ignoring this step, you risk buying the wrong-size paper roll. Remember, all plotters may not hold 2- and 3-inch rolls; some can only use one or the other. This also tells you your size limitations. What's the largest width that works for your printer? Once you have all this information, you can buy your plotter paper and get to work.
Proper Printer Calibration Matters
Before you print a document, ensure your printer and computer software calibrate to the appropriate size. This is especially important if you consistently print documents of varying sizes. Printing without verifying the calibration can waste money if the paper is the wrong size. Additionally, a properly calibrated printer ensures the print looks vibrant.
Most experts advise calibrating your printer if images appear fuzzy or the machine fails to print the entire image.
Buy From Plotter Paper Guys
Plotter Paper Guys sells the printing essentials you need. We have bonded and unbonded paper rolls of varying sizes that work for name-brand printers like HP, Canon, and Epson inkjet printers. We know the importance of using the right product for architectural and engineering experts. Buy top-quality and cost-effective plotter paper.