Posters are one of the most commonly used types of print media out there. Movie companies often release posters featuring their characters long before the actual trailers come out, and storefronts use them to advertise their products and sales.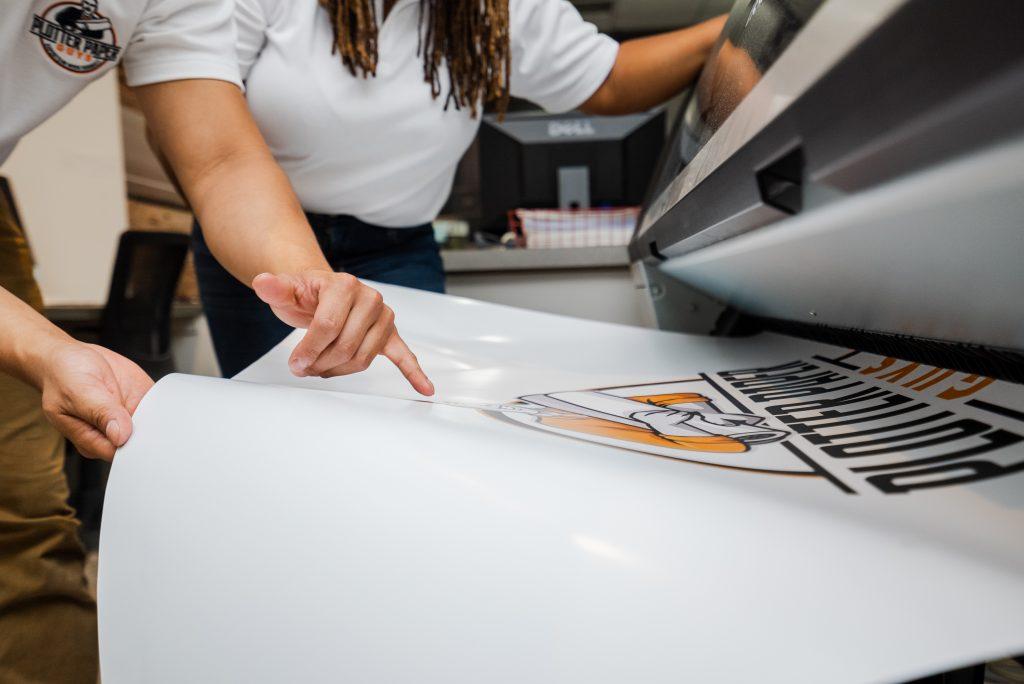 It's one thing to design a poster digitally for online distribution, but what is the best way to get them out there in the physical realm? There's a lot of prep work that goes into poster paper printing. First, you have to have the right printer and decide on the paper size and finish, depending on where the poster is going up and for how long. Here is everything you need to know about poster paper printing and how to get the highest quality product.
Printed Poster Uses
Posters are useful in a variety of different industries. The most popular use is for promotional purposes, but you can also see universities utilizing them for decoration and to show school pride. They can be for indoor events, as well as outdoor events. The type used will depend on where they're placed.
Marketing
Posters are one of the original ways businesses used to advertise and sell their products. You can use them to share your company's newest items, inform customers about upcoming events, and provide contact information. Nowadays, posters are one of the most passive ways to generate attention. Instead of bombarding a potential customer with advertisements on social media, you allow them to discover the ad on their own terms. These posters are most often placed indoors for varying lengths of time. Posters advertising short sales don't need to last as long as those marketing your entire business. You may also end up using smaller posters if they're going inside your storefront.
Trade Shows
Trade show posters need to be durable, portable, and easily replaced. You also want them to stand out from the crowd. A matte poster that's been laminated would serve well, especially if some of these trade shows happen outdoors. Matte posters are more affordable than glossy ones, so you can always buy a new one. Laminating them provides extra protection, and it also allows for a more vibrant image.
Affordable Wall Art
Posters make for a great decoration in any home. You can display your favorite art prints or family photos without breaking the bank. Store-bought posters are often made in bulk using lower quality inks. The paper may be smooth and glossy, but it's also thin and cheap. However, a printing service can help you make a much higher-quality poster. Opt for a matte or satin finish and place the poster inside a frame to preserve it. You could also make personalized posters with collages or calendars.
Standard Sizes
You know exactly what you're going to use your poster for and what's going on it, but what size paper should you print on, and how does that affect the overall quality?
First of all, there are four common poster sizes in the United States. They are 11″ x 17″, 18″ x 24″, 24″ x 36″, and 32″ x 40″. All of them follow the same standard rectangle shape, displaying vertically or horizontally. You can also print posters larger than those options and that are square rather than rectangular. However, you'll have to make sure your digital design matches up.
The International Standards Organization developed ISO 216, the international standard used in most countries, for finished print sheet sizes:
Standard Architectural sheet sizes:
9" x 12" – ARCH A
12″ x 18″ – ARCH B
18″ x 24″ – ARCH C
24″ x 36″ – ARCH D
30″ x 42″ – ARCH E1
36″ x 48″ – ARCH E
Standard Engineering sheet sizes:
8.5" x 11" – ANSI A
11″ x 17″ – ANSI B
17" x 22" – ANSI C
22″ x 34″ – ANSI D
34″ x 44″ – ANSI E
Digital Design
In modern times, pretty much all posters are designed on a computer. Even if it starts out as a sketch, it eventually has to be scanned and formatted to size. There are a few considerations to remember in the poster paper printing process.
What file type are you using, and is it high quality? A large format poster needs to be of the highest quality if you don't want it to look pixelated or blurry. You can't expect a printing service to magically correct your mistake.
Design in CMYK to get a more accurate color representation. If you were working in RGB, you can always convert your work when you're done to color-correct.
A vector-based program like Adobe Illustrator can help reduce your file size and get a crisper print result. Remember to set your print job to 300 DPI to get the best image resolution. Also supply your print files as PDFs or high-resolution JPGs.
Indoor or Outdoor?
Where you're placing a poster should determine the type of materials and finish you print on. If the poster is placed outside, you'll need a tougher material that'll survive the weather conditions. Even if it's under cover and out of the rain, it still has to deal with humidity, wind, and potential sun damage.
Conversely, indoor placements have the luxury of a controlled, air-conditioned environment. They won't need to be nearly as heavy-duty as an outdoor poster, and you could even get away without laminating it. In turn, they're also much more affordable.
Short-Term Indoor Applications
Some examples of short-term indoor applications include marketing something temporary like a movie or a sale. These posters will likely be placed on the walls inside of your establishment, as opposed to outside. As such, they won't need the additional protection of lamination, which can help save money.
Additionally, you can opt for thinner paper material since you won't need it to last as long. The 28 lb premium large format printer paper provides full-color printing with a smooth printing surface. Alternatively, the 36 lb and 46 lb Heavy Weight Bond Paper has better image quality and provides higher ink saturation.
Long-Term Indoor Applications
A long-term indoor application refers to a poster that is used for months, if not years at a time. This can include a poster for a recurring event, one you take and re-use at multiple different trade shows or decorative applications. They have many of the same benefits as a short-term indoor application in that they won't need extra protection from the weather or sunlight. However, you'll want to get a sturdier material if you want it to last longer.
A 28 lb. printer paper can suffice for certain applications. However, we suggest that you invest in the 36 lb or 46 lb options. They both provide high quality images with a stronger surface.
On top of a higher paper weight, you can mount your posters on foam board. This is done using adhesive spray or adhesive sheets, though some come with self-adhesive coatings. A foam board provides a sturdy backing to keep them from warping or moving in their frame, which can help when they're hung up for longer periods of time.
Poster Paper Printing for Outdoor Use
Posters printed for outdoor use need to be much more durable and resistant than those used indoors. They have to deal with windy and rainy weather conditions as well as continuous exposure to sunlight. As such, you should opt for a sturdier paper material with some kind of protective finish.
Full encapsulation, such as laminating, is recommended. You can also use polypropylene without lamination, vinyl banners, or some other water-resistant materials. A vinyl banner can function much like a poster but isn't made out of paper materials. As such, you can expect it to prove much more durable and longer-lasting.
Poster paper printing with a protective coating will last longer than without, but you may also get a reflective product. Whether or not that is a good or bad thing depends on your personal preference.
Why Laminate Poster Paper?
Lamination refers to the process in which you enclose and seal a piece of printer paper between two separate sheets of plastic film. These two plastic sheets are pressure sensitive or pressed together with heat, protecting the enclosed paper from water and physical damage.
You'll most often see the lamination process used for papers that need to last long, such as identification, documents, or signs. Laminating posters also makes them last longer and increases their durability. Fingerprints, oils, and moisture can't penetrate the plastic and wash right off. In some cases, laminated paper has more color pop. A matte poster with gloss laminate is more affordable than printing directly onto photo gloss.
Another benefit of lamination is the distinct look it provides. Glossy images help your poster stand out, as they give off a more professional appearance. If your laminated cover does somehow end up damaged, you can always remove it and re-laminate the poster to use it again.
Finishes
Generally speaking, poster finishes refer to the application of color, finish of the media roll, or lamination to a poster. When it comes to poster paper printing, you have options like matte heavy weight, matte super heavy weight, pearl, semi-gloss, gloss, and satin.
A matte finish is the most affordable option and comes with zero glossiness. This is most commonly used for brochures and flyers. However, you can use posters with a matte finish in a few different scenarios. If your poster isn't meant to last long or is meant for a less expensive decorative piece, then you can get away with a matte finish. You'll need to either laminate a poster with a matte finish or frame it if you want it to last longer. Sleeves and hangers allow you to conveniently protect and hang a poster. You can also purchase pre-made frames that are made for specific sizes.
A satin finish lies in between matte and glossy paper. It has a soft sheen to it without being too shiny. As such, it's often referred to as semi-gloss.
The pearl finish provides vibrant color with a much lower shininess than the other glossy options. This option is usually chosen by professional photographers due to its classy appearance.
Checking Your Spec Sheet
Remember to check the spec sheet for your printer when choosing the correct type, thickness, and paper size. Not all plotters or wide-format printers can print on all types and sizes of media. If there is any confusion, you should reach out to The Guys to learn more about what they offer and what will work for your printer.
Poster Paper Printing Made Simple
Choosing the right poster paper isn't the easiest decision, especially if this is your first time placing an order or printing something different than what you normally do. Different wide-format printers/plotters have different capabilities. At Plotter Paper Guys, our goal is to make every step of the process as easy as possible for our customers. We offer paper in categories for Inkjet CAD Media, Engineering Media, Display Graphics, and more. Contact us to help you choose. We can answer your questions about paper quality, printing times, and more.